The falling price of 100-Gbps connections within the data center, growth in I/O bandwidth requirements per rack, and a new generation of component technology should combine to drive 400-Gbps optical communications into the field in the 2017/2018 timeframe, says Heavy Reading. The market research firm states in its newly released "400G Components Come Out of the Shadows" that trials of 400-Gbps optical interfaces for both intra-data center and data center interconnect should begin by the end of this year.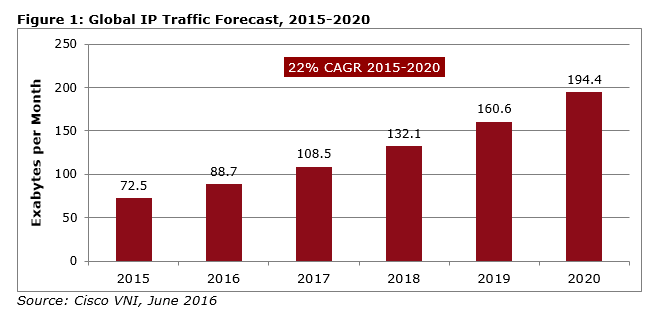 Systems houses have made coherent 400-Gbps optical transmission commercially available a few years ago. But so far there have only been a few deployments in long-haul networks (see, for example, "Orange, Alcatel-Lucent provide live 400G link to RENATER"). Heavy Reading believes the data center will provide the catalyst for significant 400G demand, with a new generation of coherent and PAM4/NRZ optical transceiver components, Optical Transport Network (OTN) processors, and field-programmable gate arrays (FPGAs) as a foundation. Many of these devices will leverage specifications from the IEEE 802.3bs 400 Gigabit Ethernet Task Force, which has created guidelines for multimode fiber and single-mode fiber applications via a variety of electrical and optical lanes as well as modulation formats (see "The journey to 400 Gigabit Ethernet" and "IEEE P802.3bs Task Force adopts serial 100G for 400 Gigabit Ethernet").
A variety of trends will combine to make data centers the nexus of 400-Gbps deployments, Heavy Reading states in the report. Factors include the growing input/output (I/O) demands of server racks as the number of servers per rack increase and dual 25 Gigabit Ethernet network interface adapters/modules reach the field. The market research firm estimates total server I/O bandwidth per rack will approach 5 Tbps within the forecast period.
Such per-rack bandwidth increases will drive greater connectivity demands at the top of the rack. The new generation of QSFP28 optical transceivers will make 100 Gbps a more common connection speed, driving the need for interfaces with greater capacities, particularly in routers.
And, as capacity demands increase within data centers, the pipes that will connect data centers together will require 400-Gbps connections as well, Heavy Reading states.
Heavy Reading's "400G Components Come Out of the Shadows" covers 400G components, demand drivers, markets, and the applications. It also profiles 19 vendors active in the space.
Source: http://www.lightwaveonline.com/articles/2016/07/data-center-driven-deployments-of-400-gbps-coming-in-2017-2018-heavy-reading.html