FTTdp is short for Fiber To The Distribution Point, It is kind of FTTx, and very similar to FTTC (Fiber to the Curb) or FTTN (Fiber to the Node), but is one-step close again moving the end of the fiber to within meters of the boundary of the customers premises in last junction possible junction box known as the "distribution point" this allows for near-gigabit speeds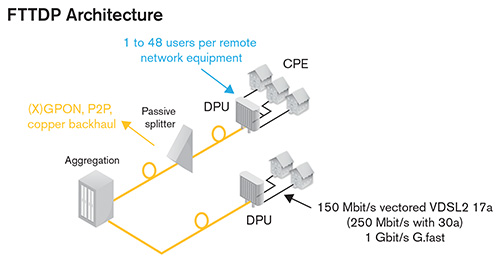 In FTTdp deployments, a limited number of subscribers at a distance of up to 200-300 m are linked to 1 fiber node, which acts as a DSL access multiplexer (DSLAM). As a benchmark for comparison, in ADSL2 deployments the DSLAM may be located in a central office (CO) at a distance of up to 5 km from the subscriber, while in some VDSL2 deployments the DSLAM is located in a street cabinet and serves hundreds of subscribers at distances up to 1 km.
A G.fast FTTdp fiber node is approximately the size of a large shoebox and can be set up outdoors (on a pole or underground) or indoors (in the basement or on the floor). In a fiber-to-the-basement (FTTB) deployment, the fiber node is in the basement of a multi-dwelling unit (MDU) and G.fast is used on the in-building telephone cabling. In a fiber to the front yard scenario, each fiber node may serve a single home. The backhaul of the FTTdp fiber node, the Broadband Forum's FTTdp architecture provides GPON, XG-PON1, EPON or 10G-EPON as options, as well as point-to-point technologies (1 GigE/10 GigE).
The benefits of FTTdp
Robust capability with VDSL (~ 250 Mbps)
On-demand upgrade to G.fast and FTTP
Single network build phase
Effectively zero wasted infrastructure should future FTTP be necessary widely
No opportunity for criticism of network capability (PR benefit)
Encourage commercial installer ecosystem
Reference:
Fiber-to-the-Node (FTTN): Interim step to FTTH. The optical fiber ends in an enclosed box that may be located a few miles from the customer premises. The cabling from the street cabinet to customer premises is usually copper.
Fiber-to-the-Curb (FTTC): Similar to FTTN, but differs in that the cable box or pole is closer to user premises; typically within 1,000 m.