Fujikura FSM-70R Mass Fiber Fusion Splicer
The Fujikura 70R is a fully robust fusion splicer for ribbon optical fibre. The new design streamlines the steps required to complete splices, resulting in greater productivity. The 'configurable automation' features allow you to customise the operation of the machine to best suit your particular splicing technique and process.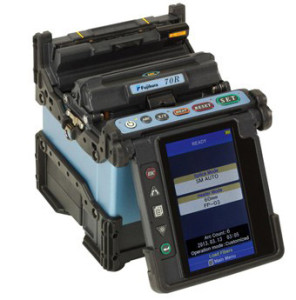 A new programmable 'automatic wind protector' closes and begins the splicing process after clamping the fibresin position or pressing the 'set' button. Once the splice is completed the wind protector is automatically opened making removal of the fibres fast and easy! Similarly, the 'clamshell' design of the tube heater clamps the splice protection sleeve and applies heat from both sides which results in a reduced shrink time of just 40 seconds.

Fujikura FSM-70R Fusion Splicer Features:
Automatic and fully programmable wind protector
Splicing: 11sec/ Tube heateing:18sec
Up to 12-fiber ribbon splicing
Minimum manual operation. Splice in 5 steps
Multi-functional carrying case with integrated work station
On-board training and support videos optics
Multi-function transit case with integrated workstation
Absolute robustness
Fujikura FSM-70R Fusion Splicer Specifications
Applicable fibres
SM (G.652 & G.657), MM ( G.651),DS ( G.653), NZDS ( G.655)
Fibre Count
Single to 12
Cladding dia./ Sheathe dia.
Single: 125μm /160μm to 3mm by fiber holder system
Ribbon: 125μm / Ribbon fiber thickness 0.25 to 0.4mm
Fibre cleaved length
10mm to 13mm
Splicing modes/ heating mode
Total 100 splicer modes / 30 heating modes
Typical splice loss
0.05dB (SM), 0.02dB (MM), 0.08dB (DS), 0.08dB (NZDS)
Measured by cut-back method relevant to ITU-T and IEC standards
Splice time / heating time
Typical 11sec with SM FAST, 15sec with SM AUTO
Splice result storage
Last 2000 splicers opticseq
Viewing method  
2 axis CMOS camera with 4.73 inches colour LCD
Magnification
X / Y (35X-90X magnification,automatically change depending on fiber count), or both X and Y opticseq simultaneously
Tension test
1.96 to 2.25N
Applicable protection
sleeve length
60mm, 40mm and Fujkura micro sleeves.
No. of splice/heating
with battery
Typical 110 cycles with BTR-09
Electrode life
1500 splicers
Size / Weight
146(W) x 159(D) x 150(H) mm / 2.5 kg (including battery)
Operating condition
Altiude:0 to 3660m above sea level,  wind:15m/s
Temperature:-10 to 50°C ,Humidity: 0-95% RH, non-dew
Resistance test
Shock: 30in all surface drop
Dust: Exposure to dust (0.1 to 500μm dia Alumina Silicate) IP5x
Rain: H=10mm/hr for 10min IP2X
Other features
PC software upgrade / date mannnnagement
Terminals
USB2.0 ( Mini-B) for data and video signal transfer to PC.
6-pin Mini-Din connector for HJS-02 or HJS-03 power supply.
Fujikura FSM-70R Standard Accessory
| | | | |
| --- | --- | --- | --- |
| Item | Description | Model No. | Qty |
| 1 | Fusion Splicer | 70R | 1 pc |
| 2 | AC adaptor/battery charger | ADC-18 | 1 pc |
| 3 | AC power cord | ACC-XX | 1 pc |
| 4 | Spare Electrodes | ELCT2-20A | 1 pair |
| 5 | Cleaver | CT-30 | 1 pc |
| 6 | Battery Pack | BTR-09 | 1 pc |
| 7 | USB cable | USB-01 | 1 pc |
| 8 | Quick reference guide | Q-70R/19R-E | 1 pc |
| 9 | Warning and cautions | W-70-E | 1 pc |
| 10 | Instruction Manual | M-70 | 1 pc |
| 11 | Alcohol Pot | AP-01 | 1 pc |
| 12 | Battery charge cord | DCC-18 | 1 pc |
| 13 | Carrying Case | CC-30 | 1 pc |
| 14 | Screw Driver | SD-01 | 1pc |
| 15 | Sleeve loader | SL-01 | 1pc |
| 16 | Thermal jacket stripper | HJS-02 | 1pc |
| 17 | Fiber holder | FH-50-12 | 2pairs |
Fujikura FSM-70R Order Information
Fujikura FSM-70R Fusion Splicer (machine only)
Includes: ADC-18 AC Adapter, ACC-14 AC Cord, ELCT2-20A Spare Electrodes (pair), S70A Sheath Clamp, USB Cable, Alcohol Pot, Screw Driver, Splicer Carrying Strap, Quick Reference Guide, Video Instruction Manual and CC30 Transit Case with Carrying Strap
Fujikura FSM-70R Fusion Splicer Kit (with cleaver)
Includes: CT30A Cleaver, ADC-18 AC Adapter, ACC-14 AC Cord, ELCT2-20A Spare Electrodes (pair), S70A Sheath Clamp, USB Cable, Alcohol Dispenser, Screw Driver, Splicer Carrying Strap, Quick Reference Guide, Video Instruction Manual, and CC30 Transit Case with Carrying Strap
Fujikura FSM-70R Fusion Splicer Kit (with cleaver, battery and cord)
Includes: BTR-09 Battery, DCC-18 Battery Charge Cord, CT30A Cleaver, ADC-18 AC Adapter, ACC-14 AC Cord, ELCT2-20A Spare Electrodes (pair), S70A Sheath Clamp, USB Cable, Alcohol Dispenser, Screw Driver, Splicer Carrying Strap, Quick Reference Guide, Video Instruction Manual and CC30 Transit Case with Carrying Strap