Optical Fiber FAQ (Frequent Asked Question)
Optical Fiber FAQ 1: What is optical fiber?
A: Optical fiber is a glass or plastic filament that guides a light wave along its path. In another terms, fiber optics is a medium for carrying information from one point to another in the form of light. Unlike the copper wire mode of transmission, fiber optics is not electrical in nature.
Optical Fiber FAQ 2: What is MM fiber and SM fiber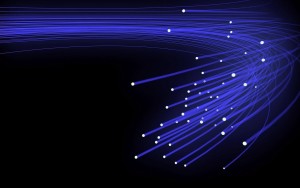 A: MM (Multimode) fiber is optical fiber that allows light to travel down multiple paths, also referred to as modes. It features a core diameter of 50 to 62.5 microns. Multimode fiber can be used to transmit AV signals in short to intermediate-distance applications, such as within a building.
SM (Single mode) fiber is optical fiber that allows light to travel down a single path known as the fundamental mode. It features a core diameter of 8 to 9 microns. Singlemode fiber can be used to transmit AV signals over extreme distances up to many miles or kilometers.
Two basic types of fiber and many different types of fiber optic cables are used today. The two types of fiber are called Single-Mode (SM) and Multi-Mode (MM). SM fiber is more expensive, but more efficient than MM fiber, SM fiber is generally used in situations in which the distances to be covered are greater.
SM fiber is a single strand of glass fiber with a diameter of 8.3 to 10 microns that has one mode of transmission. SM fiber comes with a relatively narrow diameter; the small core and single light wave virtually eliminate any distortion that could result from overlapping light pulses, providing the least signal attenuation and the highest transmission speeds of any fiber cable type. The typical distances for SM fiber are 12.4 miles (20 km) to 62 miles (100 km).
Multi-Mode fiber is a multi-strand of glass fiber with a diameter of 50 to 100 microns. Light waves are dispersed into numerous paths or modes, causing signal distortion at the receiving end for long distance cable runs. The typical distances for MM fiber are 1.2 miles (2 km) to 3 miles (5km).
Note: Fiber optic converter and fiber cable must be of the same type, e.g. SM fiber optic converter must be used together with SM fiber cable, while MM fiber optic converter must be used together with MM fiber cable.
Optical Fiber FAQ 3: What is Distribution Cable?
A: Distribution Cable (compact building cable) packages, individual 900µm buffered fiber, reducing size and cost when compared to breakout cable. The connectors may be installed directly on the 900µm buffered fiber at the breakout box location. The space saving (OFNR) rated cable may be installed where ever breakout cable is used. FIS will connectorize directly onto 900µm fiber or will build up ends to a 3mm jacketed fiber before the connectors are installed.
 Optical Fiber FAQ 4; what is Indoor/Outdoor Tight Buffer Fiber Cable?
A: Indoor/outdoor tight buffer cables in Riser and Plenum rated versions. These cables are flexible, easy to handle and simple to install. Since they do not use gel, the connectors can be terminated directly onto the fiber without difficult to use breakout kits. This provides an easy and overall less expensive installation. (Temperature rating -40ºC to +85ºC).
Optical Fiber FAQ 5: Indoor/Outdoor Breakout Cable?
A: Indoor/outdoor breakout style cables are easy to install and simple to terminate without the need for fanout kits. These rugged and durable cables are OFNR rated so they can be used indoors, while also having a -40c to +85c operating temperature range and the benefits of fungus, water and UV protection making them perfect for outdoor applications. They come standard with 2.5mm sub units and they are available in plenum rated versions.
Optical Fiber FAQ 6: What is Loose Tube Cable?
A: Loose tube cable is designed to endure outside temperatures and high moisture conditions. The fibers are loosely packaged in gel filled buffer tubes to repel water. Recommended for use between buildings that are unprotected from outside elements. Loose tube cable is restricted from inside building use, typically allowing entry not to exceed 50 feet (check your local codes).
Optical Fiber FAQ 7: Aerial Cable/Self-Supporting
A: Aerial cable provides ease of installation and reduces time and cost. Figure 8 cable can easily be separated between the fiber and the messenger. Temperature range ( -55ºC to +85ºC)
Optical Fiber FAQ 8: Hybrid & Composite Cable
A: Hybrid cables offer the same great benefits as our standard indoor/outdoor cables, with the convenience of installing multimode and singlemode fibers all in one pull. Our composite cables offer optical fiber along with solid 14 gauge wires suitable for a variety of uses including power, grounding and other electronic controls.
Optical Fiber FAQ 9: Armored Cable
A: Armored cable can be used for rodent protection in direct burial if required. This cable is non-gel filled and can also be used in aerial applications. The armor can be removed leaving the inner cable suitable for any indoor/outdoor use. (Temperature rating -40ºC to +85ºC)
Optical Fiber FAQ 10: Low Smoke Zero Halogen (LSZH)
A: Low Smoke Zero Halogen cables are offered as as alternative for halogen free applications. Less toxic and slower to ignite, they are a good choice for many international installations. We offer them in many styles as well as simplex, duplex and 1.6mm designs. This cable is riser rated and contains no flooding gel, which makes the need for a separate point of termination unnecessary. Since splicing is eliminated, termination hardware and labor times are reduced, saving you time and money. This cable may be run through risers directly to a convenient network hub or splicing closet for interconnection.
Optical Fiber FAQ 11: Whats the diffenrence between OPGW or ADSS fiber cable?
A: As usual, the answer depends on the scenario. If you are building a new transmission line and shield wires must be installed, the incremental cost of installing optical ground wire versus standard shield wire is minimal while the benefits of a fiber optic network for internal communications, grid management, etc. are profound. Similarly, if the shield wire on an existing line is aged and needs to be replaced, it is the perfect opportunity to install optical ground wire. ADSS is ideal for installation in distribution as well as transmission environments, even when live-line installations are required.