General Machine Products Company recently introduced reel-handling accessories for the aerial and underground placement of fiber-optic cable. "These components—The Pole Mount Spindle, the Reel Buck, and the Reel Caddy—are uniquely engineered to make fiber-optic cable installation safer and more productive," the company said. "All of the accessories feature durable steel construction for years of rugged use, and a bright powder-coat finish for safe visibility and corrosion protection."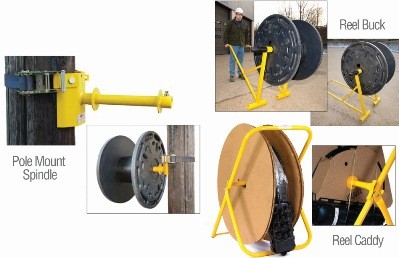 The Pole Mount Spindle "features a tough ratchet binder that employs a 2-inch-wide web that provides a secure, yet temporary, attachment to the pole," the company explained. "The unit is engineered to accommodate the specific requirements of FiOS/VATS cable reels." Two sizes are available. One can support reels 9 inches wide and a 1.5-inch spindle diameter. The other can support reels up to 24.5 inches wide and a 2.5-inch spindle. "The 'small' pole mount spindle weighs 11.3 pounds and the 'large' pole mount spindle weighs 24.2 pounds," GMP added.
The Reel Buck "can support any utility reel up to 36 inches wide and up to 50 inches in diameter," GMP said, noting that large sizes are available. Utility reels supported include the Corning line of FlexNap cable drums, the company said. "It can also handle a load capacity of up to 1200 pounds. The unit's frame is constructed of durable two-weld, rectangular steel members. It is designed to withstand the rigors of outdoor use and is treated to resist weather corrosion. The unique and versatile design allows it to act as a reel transporter and a reel stand," GMP said.
It also explained that to transport reels, users stand the reel up on both flanges and slide the spindle bar through the reel. Then, attach both handles so that when they are lifted, the reel becomes the 'wheel' similar to a wheelbarrow. "The sturdy frame allows one person to easily maneuver reels around a jobsite," GMP noted. "Once the reel is in place, flip the handles over the reel so that they serve as a sturdy base to support the reel above both flat and uneven ground. The raised base allows cable to be pulled off easily and securely in one direction."
The Reel Caddy can be used to support and dispense drop cable. GMP said the product "is lightweight and folds flat for compact storage. It is fabricated from durable, painted steel tubing that will provide years of dependable service. The Reel Caddy supports reels up to 30 inches in diameter and easily accommodates Multiport-type deployments using cardboard or plastic reels. The Reel Caddy is also quick and simple to use, requiring only one hand to set up. The unit is lightweight and folds flat for compact storage."
Source: http://www.cablinginstall.com/articles/2015/07/gmp-fiber-optic-cable-installation-tools.html